Are you concerned about the safety and environmental impact of the cat toys you're getting for your cat? If so, you've come to the right place.
There are many factors to consider when finding organic cat toys. We've taken the work out of the equation for you, providing you with thorough information about some of the best products on the market for the health of your cat and the environment.
The Problem
Many cat toys are still made with toxic synthetic chemicals like pesticides, antibiotics, and other additives. For example, one 2007 Consumeraffairs.com test found that a variety of imported Chinese pet toys contained toxic heavy metals, such as chromium and lead, known carcinogens and neurological toxins. It's very unfortunate that currently there are no federal regulations or limits on the amount of lead or other harmful chemicals allowed in pet products. Neither the Consumer Protection Safety Commission (CPSC), the Federal "Watchdog" that protects consumers from unsafe products, or the Food and Drug Administration (FDA) deal or regulate the level of potentially harmful chemicals in pet products.
Many big manufacturers aren't looking out for the health of our cats and pets in general.  In September 2009, a study by the Ecology Center looked at 400 pet products, including pet toys, beds, collars, and leashes for toxins. "Researchers found that 45% of the products contained at least one hazardous toxin linked to cancer, liver, and reproductive problems… these toxins include arsenic, bromine, chlorine, and lead… and 7% of the products had lead levels that were above 300 ppm." Still, no scientific agreement exists on the limits and "potential dangers" of chemicals in pet products due to a lack of research on the long-term effects of these harmful chemicals on pets.
The Solutions
The good news is that there is a rise in demand for the use of sustainable materials in manufacturing. These renewable materials include fibers made with hemp, bamboo, and recycled plastic, for example. In addition, organic toy manufacturers are required to have periodic inspections, giving authenticity and approval of these products.
But please be careful when searching for buzzwords like 'organic' and 'natural'. Again, being unregulated, companies can throw these marketing terms on their products, falsely advertising their claims.
---
Our Rating System
At OrganicCatToys.com, we strive to provide the most well-researched product reviews and base our 5-paw rating system on product safety, toxicity, and sustainability. The use of sustainable materials such as hemp, bamboo, recycled plastic and cardboard, etc is highly taken into consideration in toy and product ratings. These toys also have to be fun and enticing for your furry feline friend! Ratings are also based on customer reviews and personal experience, too.
---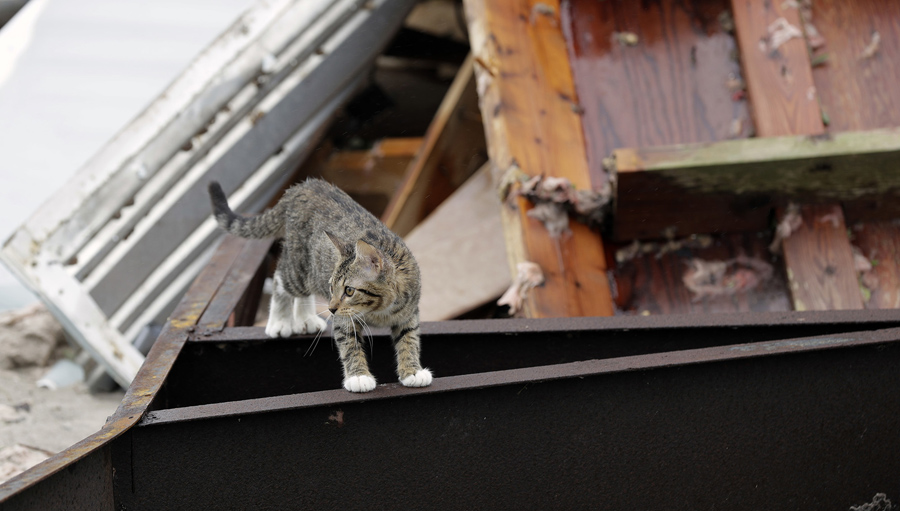 ---
Other Purry Posts:
This post gives our top picks of the best organic cat toys on the market! Using our rating system described above, we provide you with information to help you pick out the best toy(s) for your kitty!
Not all cats are affected by catnip, so we offer reviews of some of our favorite eco-friendly and safe cat toys!
We present some of the best safe, fun, and sustainable cat trees for your furry feline friend!
A featured review on The Ripple Rug, an eco-friendly kitty rug that provides endless hours of interactive play for your giddy kitty!
If you have an indoor or indoor-outdoor cat, cat litter is a must! If you are environmentally concerned about the impact and toxicity of the cat litter you're buying, switching to biodegradable cat litter is a step in the right direction. Check out our reviews and recommendations!
---

Check out this page for insight on natural ways to keep your kitty healthy in an eco-friendly way!